There's no doubt that it is cheaper to extend your home in most cases than to sell up and buy a new, bigger property.  But even when you are looking to extend, you will most likely have a budget to work with for the project. So just what can you build for your budget?
Plan the project
To start with you want to plan the project and identify what you most want from the extension.  By identifying your needs you can better look at extension types that will suit it.  For example, if you want to create extra space for a second living room or a home office, one type of extension might suit but it would be something different if you want an extra bedroom.
Think about how you will use the new space and how this might change how you use the rest of the house.  You may need to allow some of the budget to make alterations to the rest of the house to incorporate the new extension.
Once you have decided what you want to do, then you can set a brief.  This involves setting out what you intend to do with the space and what restrictions are placed by the property itself.  Also, consider things the heating and lighting of the extension. It is often a good idea to work with a qualified builder or architect to decide what you want and what you need.
Cost versus value
Building an extension is exciting but you do want to add some solid consideration to the cost of the project versus the value – in other words, will the projected increase the value of the house?  You might not worry so much about this if you plan to live in the house forever but if you want to sell it at some point and make a bit of profit, then you want to think about how much you spend from this viewpoint.
You can do some research into local homes and their value.  Look for ones with different types of extension and see how much more they are worth.  The Office for National Statistics can also provide some useful information about this.
Planning permission and a project schedule
When you start working with a builder or tradesman, they will be able to give you some ideas about Permitted Development – this usually lets you do the work without needing planning permission.  But it is always worth checking with your local planning department. There are rules that still apply and building regulations will always be a factor in anything you do.
Once you know you are okay to go ahead, then work to create a project schedule.  There are going to be bumps along the way, but it is a good idea to have a clear idea of what will happen when.  This is also the point to consider insurance or make certain yours covers what it needs to for the work being done.
You may want to consider a project manager for the overall running of the project unless you want to do this yourself.  While it may cost more, you can have someone running everything and have a better chance of it all going to plan.
What can you get for your budget?
While the exact cost of the project will depend on the specifics of what you want, your home, area and other costs, you can get some general ideas about how much things cost and what you can get for your budget. See calculator.
Generally, you can expect to pay around £1200 per square metre for a single storey, basic quality extension.  This could be as much as £2500 for a high-quality version. Multi-floor extensions cost a similar amount because you are building upwards so there's only one foundation needed.  
It is a good idea to tell your builder what the budget is that you are working with.  This lays out firm guidelines as to what can be spent and helps when making decisions about materials and other costly parts.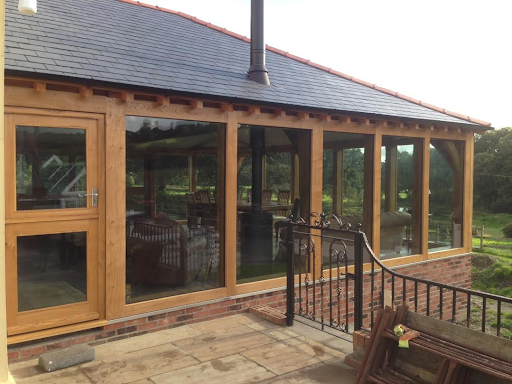 Types of extension
The aim of an extension is to add more space, but it also wants to be good quality space.  This means bringing natural light into the room, making a closer relationship between indoor and outdoor spaces and the method of construction can impact this.
Conservatories and orangeries were the classic types of extension but there are now lots of different variations to consider.  Conservatories tend to have more glazing than orangeries which have more than a brick built extensions. Frames can be uPVC, timber frames, aluminium or a mixture.  Even materials such as zinc and stone can be used by some architects to add a feature.
Modern double glazing makes these spaces easier to use all year round which was a traditional problem with them.  You can get coatings on the glass to reduce UV light and glare and their double glazing format helps keep heat in.  This means they are an energy efficient addition to the home that can be used at any time.
Examples of projects
Self-managed revamp of Victorian property
This project example was an area of just over 30 square metres and was a 19th-century house that involved the property owners project managing it themselves as well as doing some of the actual work.  The extension cost just over £88,000.
Oak extension Edwardian property
This project added an oak extension, such as a framed sunroom to the rear of the property, adding around 14 square metres to the size.  Reclaimed bricks were used for the cladding to keep in tone with the original house and upcycling was used for the furniture.  The extension cost £110,000.
Two storey extension
This project added a two-storey extension with a steel frame to a rebuilt stone mill converted into a house.  It was a modern looking extension adding 100 square metres floor space. The project cost £161,000.
Second storey timber frame
In this project, the couple took a standard bungalow and added an entire second floor to it with a timber frame.  They self-managed the project and did some work which made a significant saving on the overall cost. The project cost £200,000 and added 114 square metres in size.
1960s bungalow
This couple modernised their 1960s bungalow with a variety of different improvements but did run into some problems.  Their advice is to leave 10-15% of the budget to cover the cost of things going wrong and unexpected costs. They added 271 square metres at a cost of £275,000.
Glazed extension
A steel frame and glazing extension to this Edwardian property added 15 square metres to the back and 5 square metres to the side.  This was more than originally planned as they realised their original idea didn't create enough space for the cost. Simplified designs brought to the cost to £414,000.
Brick conversion and extension
Adding around 86 square metres, this property was a 1960s house that was renewed by the work.  They went with the lowest quote and did run into some problems that meant they ended up spending more than planned.  The project cost £507,000.
Loft conversions
While adding to a property is a popular example of a way to add space, it isn't the only option.  Converting an existing loft can also help to create space and can add around 20% to the value of the property when done right.
Factors that impact the conversion, its costs and outcome include:
Area created

Nature of the roof structure

Type of conversion

Internal finish (such as adding a bathroom)
Work may also need to be done to the floors below to comply with building regulations such as for fire-safe access or to store up the foundations.  You should also be able to work through the steps above with a loft conversion to see what you can do with the property and your budget.